TREC 2005 Spam Track
Gordon V. Cormack (track coordinator) and Thomas R. Lynam
These papers were presented at the Spam Track of TREC 2005 - The Fourteenth TExt Retrieval Conference, Gaithersburg MD, November 15-18, 2005.

Final versions to appear in the TREC 2005 Proceedings, available early 2006.

TREC 2005 Spam Corpus now available for general use.

TREC Spam Track presentations and draft papers (reproduced with authors' permission).
others to be posted when available
TREC 2005 and 2006 Spam Track Guidelines
---
Related articles
G. V. Cormack & T. R. Lynam, Spam Corpus Creation for TREC, CEAS 2005 - The Second Conference on Email and Anti-Spam, July 2005.
G. V. Cormack, Challenges in Spam Filter Evaluation, Virus Bulletin, April 2005.
G. V. Cormack, & T. R. Lynam On-line Supervised Spam Filter Evaluation, University of Waterloo, February 2006.
---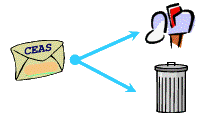 TREC and other spam researchers are encouraged to attend and submit results to

Mountain View CA, July 27-28, 2006.
---
... and, don't forget about